Outdoor Seating Area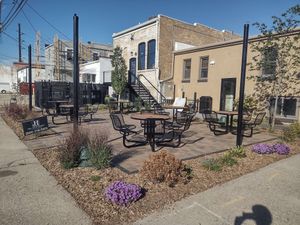 Dam Chicken / Damsel's Back Patio
New Outdoor Seating Area
As we near completion of our new outdoor seating area we thought some background might be interesting. Initially we wanted to put some seating in the front of the building and started with two small tables outside the front door. Then with the cities permission we cleared the bushes and weeds in the area near the sidewalk and were going to put tables there when we found out the city was going to remove and redo the entire street.
Knowing that any outdoor seating in the front was out of the question at least through the end of construction for Spring Street we decided to see if we could make an outdoor space out back work. Jeff and I really wanted to draw inspiration from the garden that Inter-Quest created and that was designed by local outdoor designer Matt Wieneke back in 2016.
With that as a starting point we started drawing out possible layouts that would allow us to incorporate as many plants as possible to give some semblance of privacy but unlike the garden we needed more space for tables. It did not seem feasible to bring in limestone blocks like we did for Inter-Quest so we reached out to John Henry IV from The John Henry Companies to design a patio area that would fit into the layout that we had created.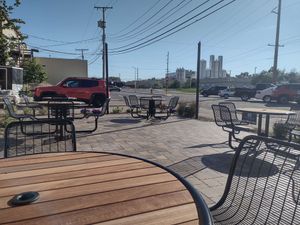 Seated on the patio
Matt is helping with tree selection and Carl Brehm from Brehm's Wonder creek Nursery is helping with some of the plant selections. We're also thinning out some of the perennials from the Inter-Quest garden and planting them in the new space. New plants mean a ton of watering and care so we enlisted the help of Dan from Discovery Water Management to install an irrigation system for us.
Seating is also really important, and we enlisted the help of Landscape Forms the only company that isn't local but is from our neighboring state of Michigan and builds very effective outdoor seating and lighting solutions in the United States to provide the tables, seating and umbrella's.
This outdoor area is going to be shared with Damsel's so perhaps the largest challenge is making it look like it belongs to both restaurants. We are excited to see how you think we did. As always please feel free to provide feedback or ask any questions your interested in learning more about.
Don't Miss Out!
Be the first to hear about new menu items, deals and more by signing up for our mailing list!
We care about the protection of your data.
Your email will never be shared.