Fish Fry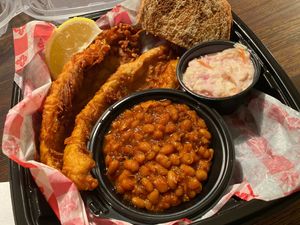 Fish Fry
Why would a chicken restaurant serve fish?
The origin of why we would do a fish fry was started in the last blog about Baked Beans--please read it if you haven't already. Once we had the baked beans right ( you gotta have good baked beans with fish fry) we were only missing two things: fish and rye bread. We already had everything else we could think of that was important for a solid fish fry on the menu.
Rye bread was the easiest of the two to figure out. It's amazing what you learn about the restaurant industry when you come from an IT background. We discovered that baked goods especially can be made fresh at a bakery, flash frozen and shipped and they taste perfect when thawed.
Currently our marble rye comes from a bakery in New York that makes it fresh every day, flash freezes it and send it our way. We're very excited that Harvest Bakery has come to town, however, as we hope to see if they can provide a rye bread for our fish fry.
Next the fish. We wanted both a decent selection and the right size. We settled on Perch, Bluegill, Walleye and Haddock. If you haven't seen it, the Walleye is huge! All our fish is caught wild and flash frozen on the boat before being processed and sent to us.
We really like our gluten free breading on the chicken, and it tastes amazing on the fish. In fact, both Jeff's wife, Lisa, and Bill's wife, Cassel, prefer the gluten free breading to the batter. Since fish is the chicken of the sea and our gluten free breading works so well, we mixed our house made chicken breading with spotted cow and a couple of other ingredients to make our beer batter.
The biggest challenge, oddly, is the chicken. The batter changes the flavor of the oil, so we can't fry chicken in the same fryer as fish on Friday nights. We also have to replace the oil after a Friday fish fry, but being computer guys we decided to install an automated oil filter system that filters in place. It also allows us to drain and add new oil from very large containers in the basement without the safety issue of carrying oil up and down the stairs.
New oil and old oil are stored in 1000-gallon containers in the basement. When we need more fresh oil, and the old oil container is full, the system calls our provider, and a truck comes to pump out the old and pump in the new. No oil can be spilled, and it all goes to a recycling center.
Our next couple of blogs will cover some of the pretty cool equipment we decided to put in the kitchen to make cooking easier for us and better for you. As always, we love feedback and suggestions. Thanks for reading.
Don't Miss Out!
Be the first to hear about new menu items, deals and more by signing up for our mailing list!
We care about the protection of your data.
Your email will never be shared.