DC Chicken Burger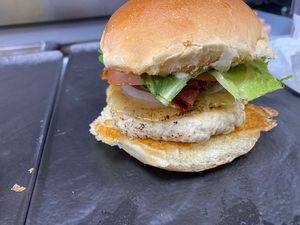 DC Chicken Burger
What is a chicken burger and why in the world make one?
It all starts with our single most popular menu item – the chicken boneless bite.
You may or may not know but we hand cut all our chicken bites from boneless skinless breasts that have never been frozen.
We get deliveries of fresh chicken twice a week and spend a fair amount of time cutting and prepping the bites.
This causes two problems: First, prepping the bites results in a lot of extra white meat and part of our mission is to use as much of our fresh food as we can.
The more we can make into tasty things people want the less is wasted and the better for everyone. Secondly, we elect to order a high-quality chicken breast for our bites, and these come in a size that makes it nearly impossible to cook a consistent grilled chicken breast for a sandwich.
We filet them for fried sandwiches, but doing so consistently enough for our griddle to cook in a timed manner necessary for service just hasn't been working.
Born from these two problems arises "The DC Burger" – We take the fresh all white meat chicken breast left after cutting the bites and we make a ground burger.
We currently add only salt and pepper to make a healthy grilled chicken sandwich served burger style the DC way.
We plan on adding other varieties such as a Cajun burger in the future, and even more exciting, we are working on a way to let online orders support adding any of our house-made sauces for any of our sandwiches.
We welcome you to try our DC burger, and as always, we value your feedback.
Don't Miss Out!
Be the first to hear about new menu items, deals and more by signing up for our mailing list!
We care about the protection of your data.
Your email will never be shared.