DC Chicken Bowl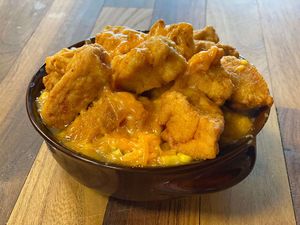 DC Chicken Bowl
Why a DC Chicken Bowl?
Since we opened Dam Chicken in April of 2020, we have wanted to put a chicken bowl on the menu. We wanted to wait however until we were happy with each of the ingredients before building what is at heart a "symphony" menu item.
One of the first menu items that we wanted to improve was the gravy.
The best place to start is family so we decided to base our gravy on a recipe inspired by Olive, Bill's great grandma.
While working on the gravy, Bill shared a number of stories about Olive, and with what turned out to be a great gravy it was time to finally put together that "symphony" item the chicken bowl.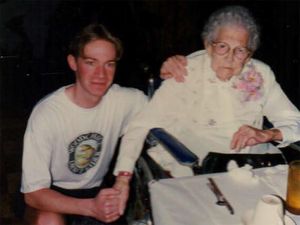 Bill with great grandma Olive
Jeff and Bill normally try to spend time in the kitchen on Mondays helping with some of the family recipes used for service that week and working on new ones.
The Monday after the gravy was finished it was finally time. We started with mashed potatoes, buttered whole kernel corn and our hand cut chicken bites topped with gravy and sprinkled with cheddar cheese.
It was a great lunch!
We welcome you to try our DC Chicken Bowl, and as always, we value your feedback. If you happen to remember a special family story inspired by food, please share it with us!
Don't Miss Out!
Be the first to hear about new menu items, deals and more by signing up for our mailing list!
We care about the protection of your data.
Your email will never be shared.