Baked Beans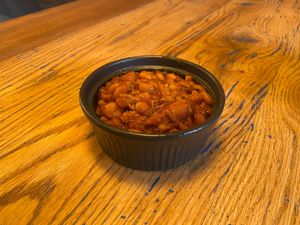 Baked Beans
So why did we add baked beans to the menu?
This story begins in early August 2020. Jeff, who's originally from Freeport, Illinois, and Bill who is from Beaver Dam were talking about fall's fast approach. Both of us were happy with the way the chicken was going but wanted to add something to Friday nights during the fall to set it apart from the rest of the week.
Both of us have had the opportunity to have some pretty awesome fish fries, and since fish really is the chicken of the sea, we thought why not build a special Friday night fish fry menu? Of course, the most important thing besides fish to have with fish fry is baked beans!
About a year ago, Bill's wife Cassel found and started modifying a recipe for baked beans that was pretty good. She had just made a batch of them a month before, so being at the top of our minds we started by just asking her to make a batch for us and write down the recipe.
It took about two weeks of minor modifications to the recipe to make it work in the commercial kitchen, and then we added it to the menu. The beans take about four and a half hours to make a batch, and we make between two and three batches a week.
We start with dry beans and use a speed soak method on the stovetop to start softening them up. While they are softening, we cook up a couple of pounds of bacon and create a custom sauce. We put the beans in a hotel pan, finely chop the bacon and mix that in, and then add fresh pork hocks from Rechek's Food Pride here in Beaver Dam.
We pour the sauce in and mix, cover, and bake for three and a half hours. We pull the hocks out, remove the bone and skin while reserving the meat. We chop up the meat, mix it into the beans along with salt and pepper and we have a fresh batch of baked beans.
A big thank you should go out to Cassel for the main recipe and to Rechek's for always have the pork hocks handy for us.
If you haven't tried our beans yet, we are excited for you to try them--we think they're pretty awesome! As always, we truly value your feedback.
Don't Miss Out!
Be the first to hear about new menu items, deals and more by signing up for our mailing list!
We care about the protection of your data.
Your email will never be shared.