A preview of Damsels chili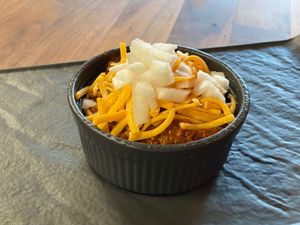 Damsels Chili with cheese and onions
As we prepare to open Damsels, we find ourselves with the enjoyable experience of working out the menu. We really wanted to have a good chili to go with our burgers because both Jeff and I love a good chili cheeseburger and chili fries.
But How Can We Make It Special?
We want our chili to be special so for this version, instead of using just any chili powder, we instead chose to use dried whole chiles. Specifically, we went for Ancho and Guajillo chiles that we then reconstituted, removed the seeds and stems, and then created our own chili paste.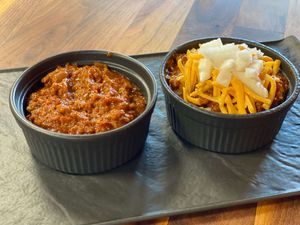 Damsels Chili with and without Cheese and Onions
This chili features a lot of locally sourced grass-fed beef, beans as well as green, yellow and red bell peppers, onions and tomatoes. Give it a try and please provide your feedback as we continue to perfect our opening menu.
Don't Miss Out!
Be the first to hear about new menu items, deals and more by signing up for our mailing list!
We care about the protection of your data.
Your email will never be shared.